News
Amazon opens invite-only PS5 restock registration — how to sign up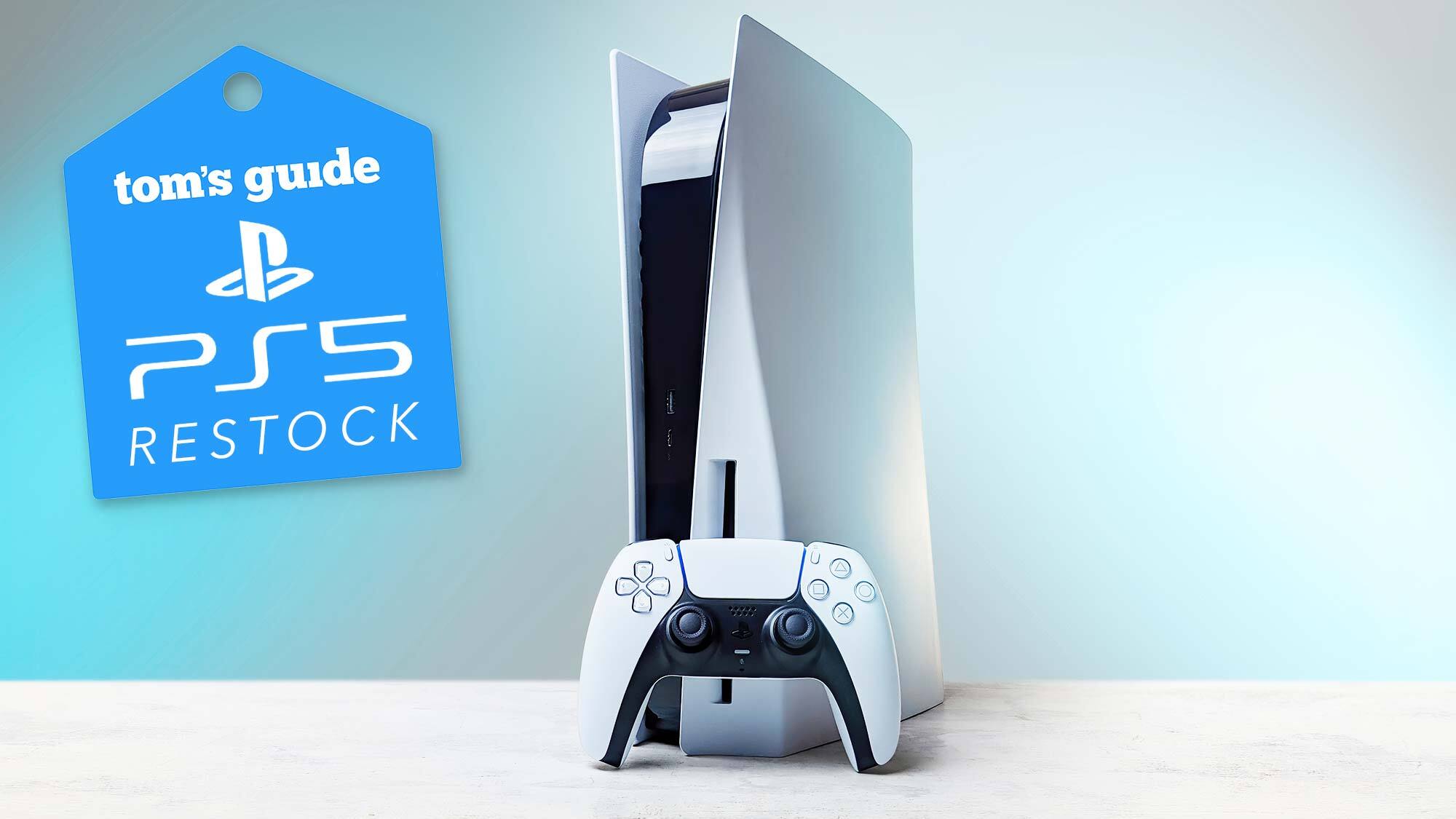 Amazon PS5 restocks are now invite-only events. Future PS5 restock events at the e-commerce giant will require that shoppers sign up for an invite via their sign-in page. 
"To ensure that as many genuine customers as possible can buy this high-demand item, we sell it by invitation," reads the new sign up page at Amazon. If you sign up and you're invited to purchase a PS5 at Amazon, you'll get an e-mail invitation. You can sign up for the next Amazon restock via this Amazon link (opens in new tab).
If you didn't get a console during Amazon's drop this past Thursday, remember that the Walmart Plus Weekend sales event is underway through June 5. Although Walmart already had a restock, they could close out their sales event with a surprise drop. 
Amazon PS5 restock (check stock)
(opens in new tab)
PS5: $499 @ Amazon (opens in new tab)
Sony's flagship gaming machine, the PS5 is one of the most in-demand tech products currently available. For good reason: this powerful console boasts 4K visuals, an innovative DualSense controller, and a 4K Blu-ray drive.
View Deal (opens in new tab)
How to register for the next Amazon PS5 restock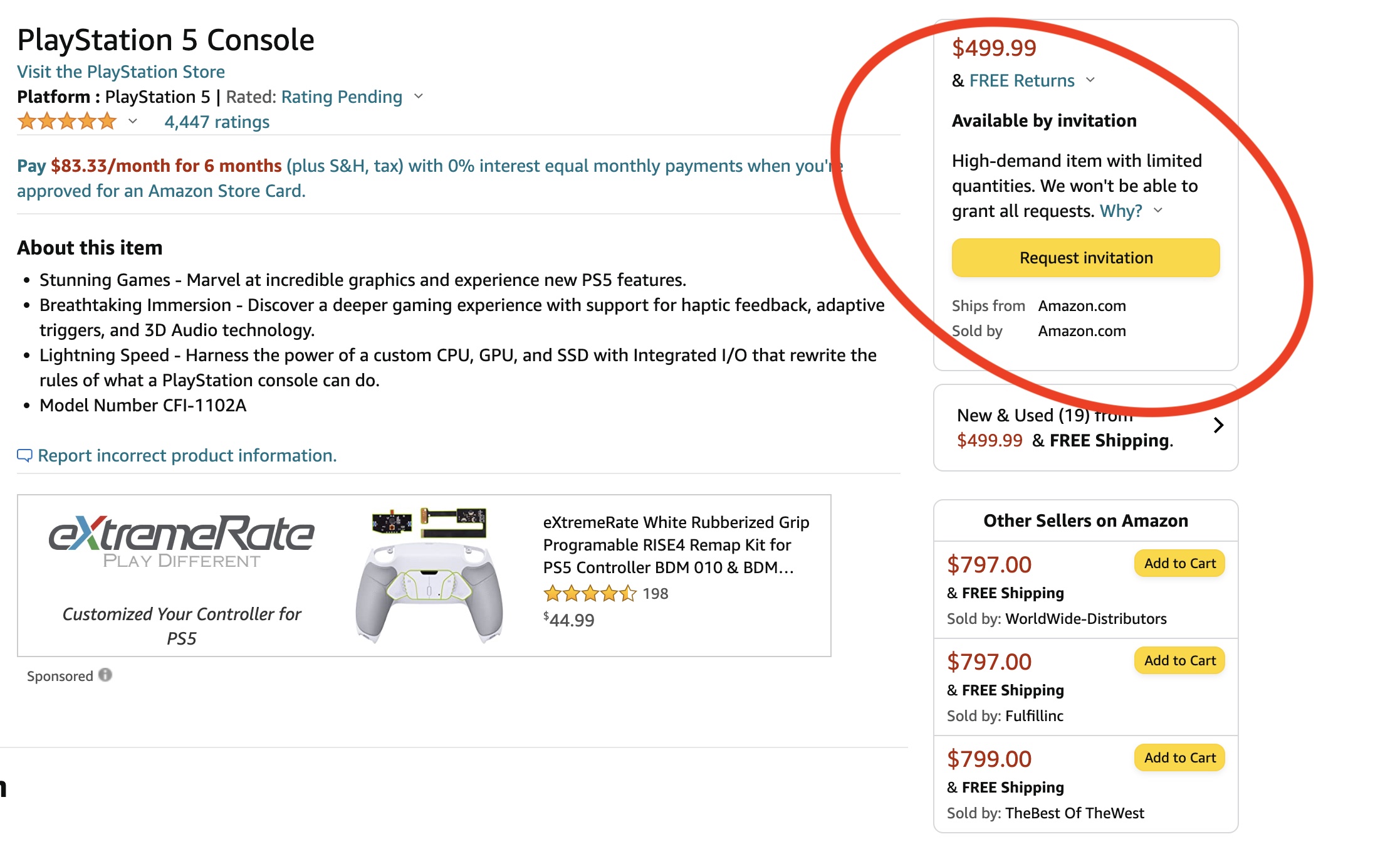 (Image credit: Amazon)
Of all the retailers that have offered PS5 drops these past few years, Amazon has been the hardest to track. Amazon PS5 restocks not only come unannounced, but they also sell out within minutes. Amazon is now changing how they tackle PS5 restocks by requiring that shoppers sign up for restocks via their sign-in page. 
Registering at for a PS5 invite from Amazon is fairly easy. First, sign into your account (opens in new tab) and then head to the PS5 product page at Amazon (opens in new tab). The "Add to cart" button on the PS5 page has been replaced with a "Request invitation" button. Click on the request button and you'll automatically be signed in. That's it! 
Amazon states that if you're invited to purchase the PS5, you'll get an email with a link that's valid for 72 hours. Amazon clearly states that it will not be able to accommodate everyone, so registering isn't a guarantee you'll get an invite or a console. 
It's worth noting that registration is only open to purchase the PS5 Disc console. There's no registration button on the PS5 Digital page. 
PS5 restock tracker — stores to check
Walmart: PS5 (opens in new tab) | PS5 Digital Edition (opens in new tab) (last restock June 2)
Best Buy: PS5 (opens in new tab) | PS5 Digital Edition (opens in new tab) (last restock April 21)
GameStop: PS5 (opens in new tab) | PS5 Digital Edition (opens in new tab) (last restock June 1)
Amazon: PS5 (opens in new tab) | PS5 Digital Edition (opens in new tab) (last restock June 2) 
Dell: PS5 (opens in new tab)  | PS5 Digital Edition (opens in new tab) (last restock January 20)
Target: PS5 (opens in new tab) | PS5 Digital Edition (opens in new tab) (last restock April 15)
Sony: PS5 (opens in new tab) | PS5 Digital Edition (opens in new tab) (last restock May 26)
Newegg: PS5 (opens in new tab) | PS5 Digital Edition (opens in new tab) (last restock April 29)
Kohl's: PS5 (opens in new tab) (last restock April 21)
Adorama: PS5 (opens in new tab) | PS5 Digital Edition (opens in new tab) | Bundles (opens in new tab) (last restock May 11)
Costco: PS5 (opens in new tab) | PS5 Digital Edition (opens in new tab) (last restock May 17)
Antonline: PS5 (opens in new tab) | PS5 Digital Edition (opens in new tab) (last restock May 2)
Sam's Club: PS5 (opens in new tab) (last restock May 19)
Verizon: PS5 (opens in new tab) | PS5 Digital Edition (opens in new tab) (last restock June 1)
Shop must-have PS5 accessory deals
(opens in new tab)Sony PS5 Media Remote (opens in new tab) (opens in new tab)$29.99 (opens in new tab)View (opens in new tab)See all prices (opens in new tab)Sony PlayStation 5 DualSense Charging (opens in new tab) (opens in new tab)$29.99 (opens in new tab)View (opens in new tab)See all pricesReduced Price (opens in new tab)Sony PlayStation 5 HD Camera (opens in new tab) (opens in new tab)$59.99 (opens in new tab)$49.99 (opens in new tab)View (opens in new tab)See all pricesReduced Price (opens in new tab)Sony PlayStation 5 DualSense Wireless (opens in new tab) (opens in new tab)$69.99 (opens in new tab)$59.99 (opens in new tab)View (opens in new tab)See all pricesReduced Price (opens in new tab)WD 5TB MyPassport Portable (opens in new tab) (opens in new tab)$149.99 (opens in new tab)$109.99 (opens in new tab)View (opens in new tab)See all pricesReduced Price (opens in new tab)Sony PlayStation Pulse 3D Wireless (opens in new tab) (opens in new tab)$99.99 (opens in new tab)$89.99 (opens in new tab)View (opens in new tab)See all pricesWe check over 250 million products every day for the best prices
---
See more
Amazon opens invite-only PS5 restock registration — how to sign up
Amazon PS5 restocks are now invite-only events. Future PS5 restock events at the e-commerce giant will require that shoppers sign up for an invite via their sign-in page. 
"To ensure that as many genuine customers as possible can buy this high-demand item, we sell it by invitation," reads the new sign up page at Amazon. If you sign up and you're invited to purchase a PS5 at Amazon, you'll get an e-mail invitation. You can sign up for the next Amazon restock via this Amazon link (opens in new tab).
If you didn't get a console during Amazon's drop this past Thursday, remember that the Walmart Plus Weekend sales event is underway through June 5. Although Walmart already had a restock, they could close out their sales event with a surprise drop. 
Amazon PS5 restock (check stock)
(opens in new tab)
PS5: $499 @ Amazon (opens in new tab)Sony's flagship gaming machine, the PS5 is one of the most in-demand tech products currently available. For good reason: this powerful console boasts 4K visuals, an innovative DualSense controller, and a 4K Blu-ray drive.
View Deal (opens in new tab)
How to register for the next Amazon PS5 restock
(Image credit: Amazon)
Of all the retailers that have offered PS5 drops these past few years, Amazon has been the hardest to track. Amazon PS5 restocks not only come unannounced, but they also sell out within minutes. Amazon is now changing how they tackle PS5 restocks by requiring that shoppers sign up for restocks via their sign-in page. 
Registering at for a PS5 invite from Amazon is fairly easy. First, sign into your account (opens in new tab) and then head to the PS5 product page at Amazon (opens in new tab). The "Add to cart" button on the PS5 page has been replaced with a "Request invitation" button. Click on the request button and you'll automatically be signed in. That's it! 
Amazon states that if you're invited to purchase the PS5, you'll get an email with a link that's valid for 72 hours. Amazon clearly states that it will not be able to accommodate everyone, so registering isn't a guarantee you'll get an invite or a console. 
It's worth noting that registration is only open to purchase the PS5 Disc console. There's no registration button on the PS5 Digital page. 
PS5 restock tracker — stores to check
Walmart: PS5 (opens in new tab) | PS5 Digital Edition (opens in new tab) (last restock June 2)
Best Buy: PS5 (opens in new tab) | PS5 Digital Edition (opens in new tab) (last restock April 21)
GameStop: PS5 (opens in new tab) | PS5 Digital Edition (opens in new tab) (last restock June 1)
Amazon: PS5 (opens in new tab) | PS5 Digital Edition (opens in new tab) (last restock June 2) 
Dell: PS5 (opens in new tab)  | PS5 Digital Edition (opens in new tab) (last restock January 20)
Target: PS5 (opens in new tab) | PS5 Digital Edition (opens in new tab) (last restock April 15)
Sony: PS5 (opens in new tab) | PS5 Digital Edition (opens in new tab) (last restock May 26)
Newegg: PS5 (opens in new tab) | PS5 Digital Edition (opens in new tab) (last restock April 29)
Kohl's: PS5 (opens in new tab) (last restock April 21)
Adorama: PS5 (opens in new tab) | PS5 Digital Edition (opens in new tab) | Bundles (opens in new tab) (last restock May 11)
Costco: PS5 (opens in new tab) | PS5 Digital Edition (opens in new tab) (last restock May 17)
Antonline: PS5 (opens in new tab) | PS5 Digital Edition (opens in new tab) (last restock May 2)
Sam's Club: PS5 (opens in new tab) (last restock May 19)
Verizon: PS5 (opens in new tab) | PS5 Digital Edition (opens in new tab) (last restock June 1)
Shop must-have PS5 accessory deals (opens in new tab)Sony PS5 Media Remote (opens in new tab) (opens in new tab)$29.99 (opens in new tab)View (opens in new tab)See all prices (opens in new tab)Sony PlayStation 5 DualSense Charging (opens in new tab) (opens in new tab)$29.99 (opens in new tab)View (opens in new tab)See all pricesReduced Price (opens in new tab)Sony PlayStation 5 HD Camera (opens in new tab) (opens in new tab)$59.99 (opens in new tab)$49.99 (opens in new tab)View (opens in new tab)See all pricesReduced Price (opens in new tab)Sony PlayStation 5 DualSense Wireless (opens in new tab) (opens in new tab)$69.99 (opens in new tab)$59.99 (opens in new tab)View (opens in new tab)See all pricesReduced Price (opens in new tab)WD 5TB MyPassport Portable (opens in new tab) (opens in new tab)$149.99 (opens in new tab)$109.99 (opens in new tab)View (opens in new tab)See all pricesReduced Price (opens in new tab)Sony PlayStation Pulse 3D Wireless (opens in new tab) (opens in new tab)$99.99 (opens in new tab)$89.99 (opens in new tab)View (opens in new tab)See all pricesWe check over 250 million products every day for the best prices
#Amazon #opens #inviteonly #PS5 #restock #registration #sign
Amazon opens invite-only PS5 restock registration — how to sign up
Amazon PS5 restocks are now invite-only events. Future PS5 restock events at the e-commerce giant will require that shoppers sign up for an invite via their sign-in page. 
"To ensure that as many genuine customers as possible can buy this high-demand item, we sell it by invitation," reads the new sign up page at Amazon. If you sign up and you're invited to purchase a PS5 at Amazon, you'll get an e-mail invitation. You can sign up for the next Amazon restock via this Amazon link (opens in new tab).
If you didn't get a console during Amazon's drop this past Thursday, remember that the Walmart Plus Weekend sales event is underway through June 5. Although Walmart already had a restock, they could close out their sales event with a surprise drop. 
Amazon PS5 restock (check stock)
(opens in new tab)
PS5: $499 @ Amazon (opens in new tab)Sony's flagship gaming machine, the PS5 is one of the most in-demand tech products currently available. For good reason: this powerful console boasts 4K visuals, an innovative DualSense controller, and a 4K Blu-ray drive.
View Deal (opens in new tab)
How to register for the next Amazon PS5 restock
(Image credit: Amazon)
Of all the retailers that have offered PS5 drops these past few years, Amazon has been the hardest to track. Amazon PS5 restocks not only come unannounced, but they also sell out within minutes. Amazon is now changing how they tackle PS5 restocks by requiring that shoppers sign up for restocks via their sign-in page. 
Registering at for a PS5 invite from Amazon is fairly easy. First, sign into your account (opens in new tab) and then head to the PS5 product page at Amazon (opens in new tab). The "Add to cart" button on the PS5 page has been replaced with a "Request invitation" button. Click on the request button and you'll automatically be signed in. That's it! 
Amazon states that if you're invited to purchase the PS5, you'll get an email with a link that's valid for 72 hours. Amazon clearly states that it will not be able to accommodate everyone, so registering isn't a guarantee you'll get an invite or a console. 
It's worth noting that registration is only open to purchase the PS5 Disc console. There's no registration button on the PS5 Digital page. 
PS5 restock tracker — stores to check
Walmart: PS5 (opens in new tab) | PS5 Digital Edition (opens in new tab) (last restock June 2)
Best Buy: PS5 (opens in new tab) | PS5 Digital Edition (opens in new tab) (last restock April 21)
GameStop: PS5 (opens in new tab) | PS5 Digital Edition (opens in new tab) (last restock June 1)
Amazon: PS5 (opens in new tab) | PS5 Digital Edition (opens in new tab) (last restock June 2) 
Dell: PS5 (opens in new tab)  | PS5 Digital Edition (opens in new tab) (last restock January 20)
Target: PS5 (opens in new tab) | PS5 Digital Edition (opens in new tab) (last restock April 15)
Sony: PS5 (opens in new tab) | PS5 Digital Edition (opens in new tab) (last restock May 26)
Newegg: PS5 (opens in new tab) | PS5 Digital Edition (opens in new tab) (last restock April 29)
Kohl's: PS5 (opens in new tab) (last restock April 21)
Adorama: PS5 (opens in new tab) | PS5 Digital Edition (opens in new tab) | Bundles (opens in new tab) (last restock May 11)
Costco: PS5 (opens in new tab) | PS5 Digital Edition (opens in new tab) (last restock May 17)
Antonline: PS5 (opens in new tab) | PS5 Digital Edition (opens in new tab) (last restock May 2)
Sam's Club: PS5 (opens in new tab) (last restock May 19)
Verizon: PS5 (opens in new tab) | PS5 Digital Edition (opens in new tab) (last restock June 1)
Shop must-have PS5 accessory deals (opens in new tab)Sony PS5 Media Remote (opens in new tab) (opens in new tab)$29.99 (opens in new tab)View (opens in new tab)See all prices (opens in new tab)Sony PlayStation 5 DualSense Charging (opens in new tab) (opens in new tab)$29.99 (opens in new tab)View (opens in new tab)See all pricesReduced Price (opens in new tab)Sony PlayStation 5 HD Camera (opens in new tab) (opens in new tab)$59.99 (opens in new tab)$49.99 (opens in new tab)View (opens in new tab)See all pricesReduced Price (opens in new tab)Sony PlayStation 5 DualSense Wireless (opens in new tab) (opens in new tab)$69.99 (opens in new tab)$59.99 (opens in new tab)View (opens in new tab)See all pricesReduced Price (opens in new tab)WD 5TB MyPassport Portable (opens in new tab) (opens in new tab)$149.99 (opens in new tab)$109.99 (opens in new tab)View (opens in new tab)See all pricesReduced Price (opens in new tab)Sony PlayStation Pulse 3D Wireless (opens in new tab) (opens in new tab)$99.99 (opens in new tab)$89.99 (opens in new tab)View (opens in new tab)See all pricesWe check over 250 million products every day for the best prices
#Amazon #opens #inviteonly #PS5 #restock #registration #sign
---
Synthetic: Ôn Thi HSG