Entertainment
Arno And Wes Face Off In Fear The Walking Dead [EXCLUSIVE CLIP]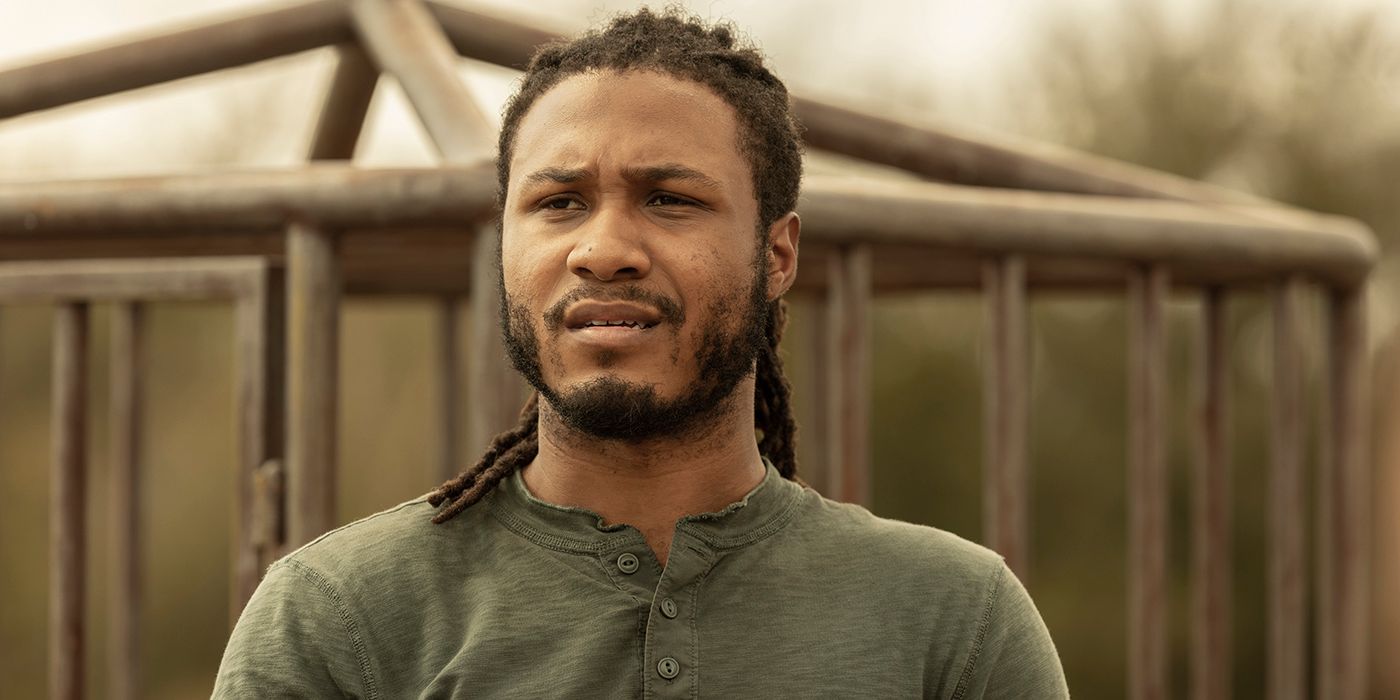 Colby Hollman as Wes Fear the living deadSeason 7 Episode 11 Photo: Lauren "Lo" Smith/AMC
Screen rental is honored to offer a special preview from Fear the living dead Season 7, "Ofelia," whose 11th episode airs May 1, is already available on AMC+, while the general public will get their first glimpse of series star Alycia Debnam-Carey's directorial debut on Sunday. . Debnam-Carey has played Alicia Clark on the show for seven years and is the sole survivor of her family.
Fear the living deadSeason seven is split into two parts, and 7A focuses on the disintegration of Morgan's (Lennie James) group of survivors after the nuclear explosion caused by murderous fanatic Teddy Maddox. The Maddox doomsday cult sought to "cleanse" and rebuild the world, locking Alicia in a bunker to transform her into the future leader of their community. He was bitten by a zombie during his escape attempt – but despite his severed arm, he developed a fever which could indicate his actions were too late.
exclusively Fear the living dead In the clip provided by AMC, Wes is trapped in a cage and is interrogated by Arno, the leader of the Stalkers, threatening to feed him the walkers below. With Arno both desperate for ammo and still grieving over Derek's death, can Wes hold his own against him? When Arno reminds Wes of his alleged betrayal of Derek, it's clear that Wes isn't entirely convinced he made the right choice in ending his brother's life, even if it's for the best. Check out the full clip below:
Click here to watch the video.
This week's highly anticipated episode Fear the waking dead It is called "Ofelia". In it, Luciana (Danay Garcia) and Wes (Colby Hollman) test the limits of their patience when Daniel's (Rubén Blades) deteriorating mental state puts them all in danger. As well as being Alycia Debnam-Carey's directorial debut, the episode was written by Alex Delyle (who co-wrote "Reclamation" earlier this season) and David Johnson (formerly of "Breathe with Me"). .
As a group of survivors facing this week's Stalkers Fear the living dead, Alicia will continue to be a driving force in halftime after getting something in her absence on the set of the first episode. He must not only fight off the infection that threatens to weaken him, but also take charge of the doomsday cult that has been left under his protection and whose followers see him as their leader. To make matters worse, he must confront Victor Strand (Colman Domingo) and his armed militia in The Tower.
Fear the living dead Season 7 Episode 11 airs on AMC on Sunday, May 1 at 9:00 p.m. New episodes will continue to air a week earlier on AMC+.
Source: AMC
---
See more
Arno And Wes Face Off In Fear The Walking Dead [EXCLUSIVE CLIP]
Colby Hollman as Wes in Fear the Walking Dead, Season 7, Episode 11 – Photo Credit: Lauren "Lo" Smith/AMC
Screen Rant has the honor of presenting an exclusive sneak peek from Fear The Walking Dead season 7, which airs its 11th episode on May 1. While "Ofelia" is already available to view on AMC+, general audiences will get their first look at series star Alycia Debnam-Carey's directorial debut on Sunday. Debnam-Carey has portrayed Alicia Clark on the series for seven years now, and is one of the only remaining survivors of her family.
Fear The Walking Dead's seventh season was split into two parts, with 7A centering on Morgan's (Lennie James) group of survivors being scattered after the nuclear explosion caused by murderous zealot Teddy Maddox. The doomsday cult Maddox started aimed to "cleanse" the earth and rebuilding it, and he locked Alicia in a bunker in order to transform her into the future leader of his community. During her escape attempt, she was bitten by a zombie – but despite amputating her arm, she developed a fever that may indicate her actions were too late.
In the exclusive Fear The Walking Dead clip provided by AMC, Wes is trapped in a cage and questioned by Arno, the leader of the Stalkers, who threatens to feed him to the walkers down below. With Arno both desperate for ammunition and still bitter about Derek's death, can Wes hold his own against him? When Arno reminds Wes of his supposed betrayal against Derek, it is clear the latter is not entirely convinced he made the right choice when he ended his brother's life – even if it was for the greater good. Check out the full clip below:
Click here to watch the video.
This week's highly-anticipated episode of Fear The Waking Dead is titled "Ofelia." In it, Luciana (Danay Garcia) and Wes (Colby Hollman) test the limits of their patience when Daniel's (Rubén Blades) worsening mental state ends up endangering them all. Apart from being Alycia Debnam-Carey's directorial debut, the episode was written by Alex Delyle (who co-wrote "Reclamation" earlier this season) and David Johnson (who previously co-wrote "Breathe with Me").
While one set of survivors are dealing with the Stalkers in this week's Fear The Walking Dead, Alicia herself will continue to be a driving force in the back half after taking something on an absence in the first set of episodes. Not only must she battle the infection that threatens to weaken her, but she must also take responsibility for the doomsday cult that was left in her care and whose followers think of her as their leader. To make matters worse, she must go head to head against Victor Strand (Colman Domingo) and his armed militia at The Tower.
Fear The Walking Dead season 7, episode 11 airs Sunday, May 1 at 9pm ET on AMC. New episodes will continue to be available one week early on AMC+.
Source: AMC
#Arno #Wes #Face #Fear #Walking #Dead #EXCLUSIVE #CLIP
Arno And Wes Face Off In Fear The Walking Dead [EXCLUSIVE CLIP]
Colby Hollman as Wes in Fear the Walking Dead, Season 7, Episode 11 – Photo Credit: Lauren "Lo" Smith/AMC
Screen Rant has the honor of presenting an exclusive sneak peek from Fear The Walking Dead season 7, which airs its 11th episode on May 1. While "Ofelia" is already available to view on AMC+, general audiences will get their first look at series star Alycia Debnam-Carey's directorial debut on Sunday. Debnam-Carey has portrayed Alicia Clark on the series for seven years now, and is one of the only remaining survivors of her family.
Fear The Walking Dead's seventh season was split into two parts, with 7A centering on Morgan's (Lennie James) group of survivors being scattered after the nuclear explosion caused by murderous zealot Teddy Maddox. The doomsday cult Maddox started aimed to "cleanse" the earth and rebuilding it, and he locked Alicia in a bunker in order to transform her into the future leader of his community. During her escape attempt, she was bitten by a zombie – but despite amputating her arm, she developed a fever that may indicate her actions were too late.
In the exclusive Fear The Walking Dead clip provided by AMC, Wes is trapped in a cage and questioned by Arno, the leader of the Stalkers, who threatens to feed him to the walkers down below. With Arno both desperate for ammunition and still bitter about Derek's death, can Wes hold his own against him? When Arno reminds Wes of his supposed betrayal against Derek, it is clear the latter is not entirely convinced he made the right choice when he ended his brother's life – even if it was for the greater good. Check out the full clip below:
Click here to watch the video.
This week's highly-anticipated episode of Fear The Waking Dead is titled "Ofelia." In it, Luciana (Danay Garcia) and Wes (Colby Hollman) test the limits of their patience when Daniel's (Rubén Blades) worsening mental state ends up endangering them all. Apart from being Alycia Debnam-Carey's directorial debut, the episode was written by Alex Delyle (who co-wrote "Reclamation" earlier this season) and David Johnson (who previously co-wrote "Breathe with Me").
While one set of survivors are dealing with the Stalkers in this week's Fear The Walking Dead, Alicia herself will continue to be a driving force in the back half after taking something on an absence in the first set of episodes. Not only must she battle the infection that threatens to weaken her, but she must also take responsibility for the doomsday cult that was left in her care and whose followers think of her as their leader. To make matters worse, she must go head to head against Victor Strand (Colman Domingo) and his armed militia at The Tower.
Fear The Walking Dead season 7, episode 11 airs Sunday, May 1 at 9pm ET on AMC. New episodes will continue to be available one week early on AMC+.
Source: AMC
#Arno #Wes #Face #Fear #Walking #Dead #EXCLUSIVE #CLIP
---
Synthetic: Ôn Thi HSG