Entertainment
Fear The Walking Dead Season 7 Finale Trailer: Morgan & Madison Meet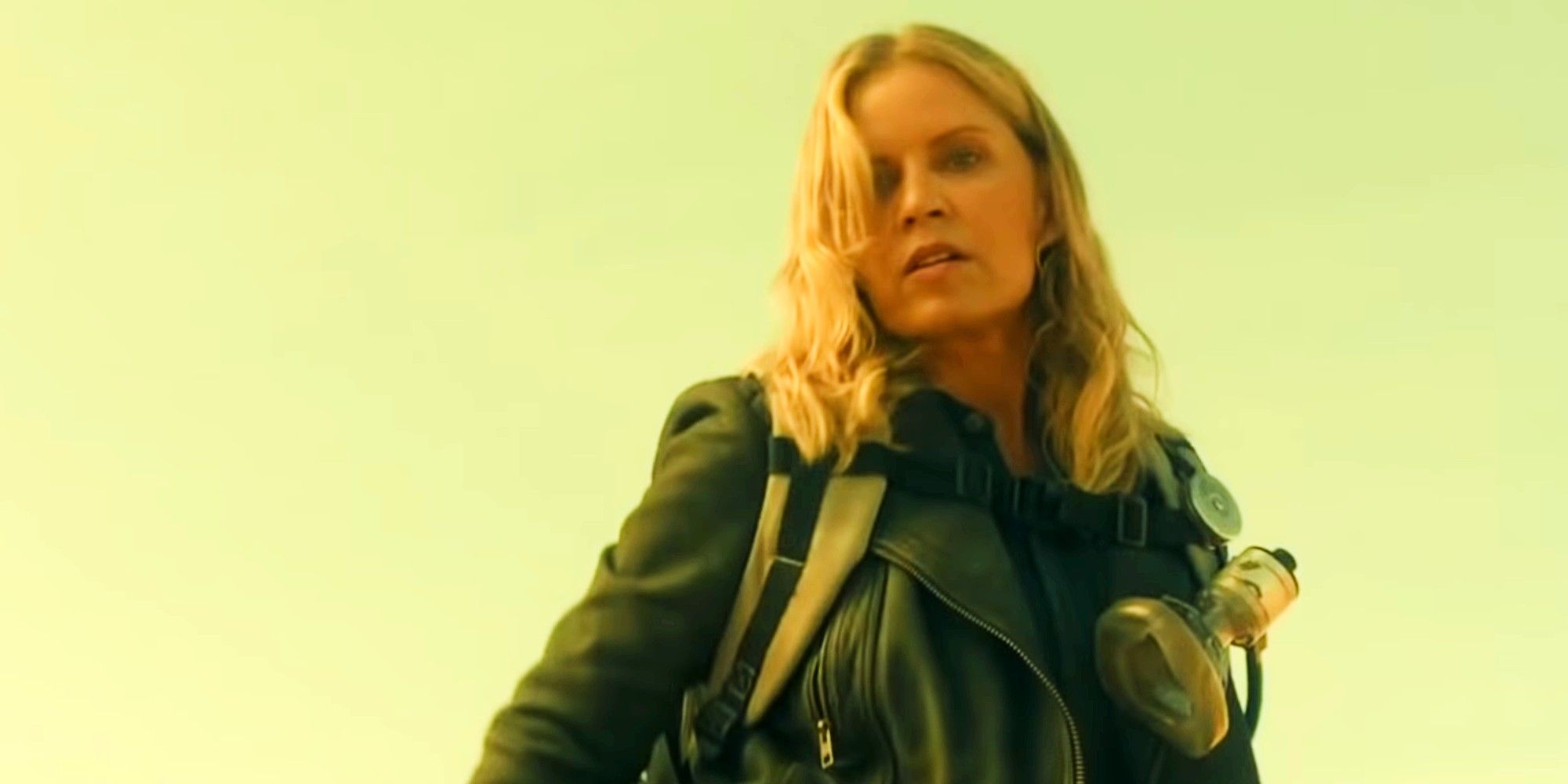 Morgan Jones and Madison Clark finally meet in the Fear the Walking Dead season 7 finale trailer. A spinoff of AMC's hit The Walking Dead, Fear the Walking Dead stars Alycia Debnam-Carey, Colman Domingo, Danay García, Maggie Grace, Garret Dillahunt, Ruben Blades, Jenna Elfman, Alexa Nisenson, Austin Amelio, and Lennie James as Morgan. Kim Dickens also appears as Madison for the first time since 2018. The Fear the Walking Dead season 7 finale, titled "Gone", will be released on June 5.
AMC released the promo (via Daryl Dixon TV) for Fear the Walking Dead season 7, episode 16, teasing the long-awaited return of Madison. The season finale trailer features Morgan as he searches for shelter for himself and Baby Mo. The pair are attacked by burlap-sack-wearing enemies, but Morgan finds an unexpected ally in Madison, returning for the first time since her supposed death in Fear the Walking Dead season 4. The trailer shows Madison wielding a hammer and effectively bashing zombies' heads, proving she's back and as strong as ever. Check out the trailer below:
SCREENRANT VIDEO OF THE DAY

Fans have been eager to see Dickens return to Fear the Walking Dead since James left The Walking Dead and took over as the series' lead midway through season 4. In December 2021, AMC confirmed that Dickens would be rejoining the cast for season 7. Her return will be even more momentous as Madison and Morgan meet face-to-face and inevitably clash personalities. Dickens will also return as a series regular for Fear the Walking Dead season 8.
Source: Daryl Dixon TV
---
See more
Fear The Walking Dead Season 7 Finale Trailer: Morgan & Madison Meet
Morgan Jones and Madison Clark finally meet in the Fear the Walking Dead season 7 finale trailer. A spinoff of AMC's hit The Walking Dead, Fear the Walking Dead stars Alycia Debnam-Carey, Colman Domingo, Danay García, Maggie Grace, Garret Dillahunt, Ruben Blades, Jenna Elfman, Alexa Nisenson, Austin Amelio, and Lennie James as Morgan. Kim Dickens also appears as Madison for the first time since 2018. The Fear the Walking Dead season 7 finale, titled "Gone", will be released on June 5.
AMC released the promo (via Daryl Dixon TV) for Fear the Walking Dead season 7, episode 16, teasing the long-awaited return of Madison. The season finale trailer features Morgan as he searches for shelter for himself and Baby Mo. The pair are attacked by burlap-sack-wearing enemies, but Morgan finds an unexpected ally in Madison, returning for the first time since her supposed death in Fear the Walking Dead season 4. The trailer shows Madison wielding a hammer and effectively bashing zombies' heads, proving she's back and as strong as ever. Check out the trailer below:
SCREENRANT VIDEO OF THE DAY
Fans have been eager to see Dickens return to Fear the Walking Dead since James left The Walking Dead and took over as the series' lead midway through season 4. In December 2021, AMC confirmed that Dickens would be rejoining the cast for season 7. Her return will be even more momentous as Madison and Morgan meet face-to-face and inevitably clash personalities. Dickens will also return as a series regular for Fear the Walking Dead season 8.
Source: Daryl Dixon TV
googletag.cmd.push(function() { googletag.display('div-gpt-ad-1535570269372-ccr2'); });
googletag.cmd.push(function() { googletag.display('div-gpt-ad-1550597677810-0'); });
#Fear #Walking #Dead #Season #Finale #Trailer #Morgan #Madison #Meet
Fear The Walking Dead Season 7 Finale Trailer: Morgan & Madison Meet
Morgan Jones and Madison Clark finally meet in the Fear the Walking Dead season 7 finale trailer. A spinoff of AMC's hit The Walking Dead, Fear the Walking Dead stars Alycia Debnam-Carey, Colman Domingo, Danay García, Maggie Grace, Garret Dillahunt, Ruben Blades, Jenna Elfman, Alexa Nisenson, Austin Amelio, and Lennie James as Morgan. Kim Dickens also appears as Madison for the first time since 2018. The Fear the Walking Dead season 7 finale, titled "Gone", will be released on June 5.
AMC released the promo (via Daryl Dixon TV) for Fear the Walking Dead season 7, episode 16, teasing the long-awaited return of Madison. The season finale trailer features Morgan as he searches for shelter for himself and Baby Mo. The pair are attacked by burlap-sack-wearing enemies, but Morgan finds an unexpected ally in Madison, returning for the first time since her supposed death in Fear the Walking Dead season 4. The trailer shows Madison wielding a hammer and effectively bashing zombies' heads, proving she's back and as strong as ever. Check out the trailer below:
SCREENRANT VIDEO OF THE DAY
Fans have been eager to see Dickens return to Fear the Walking Dead since James left The Walking Dead and took over as the series' lead midway through season 4. In December 2021, AMC confirmed that Dickens would be rejoining the cast for season 7. Her return will be even more momentous as Madison and Morgan meet face-to-face and inevitably clash personalities. Dickens will also return as a series regular for Fear the Walking Dead season 8.
Source: Daryl Dixon TV
googletag.cmd.push(function() { googletag.display('div-gpt-ad-1535570269372-ccr2'); });
googletag.cmd.push(function() { googletag.display('div-gpt-ad-1550597677810-0'); });
#Fear #Walking #Dead #Season #Finale #Trailer #Morgan #Madison #Meet
---
Synthetic: Ôn Thi HSG