Guides
The best Borderlands 3 guns we've seen so far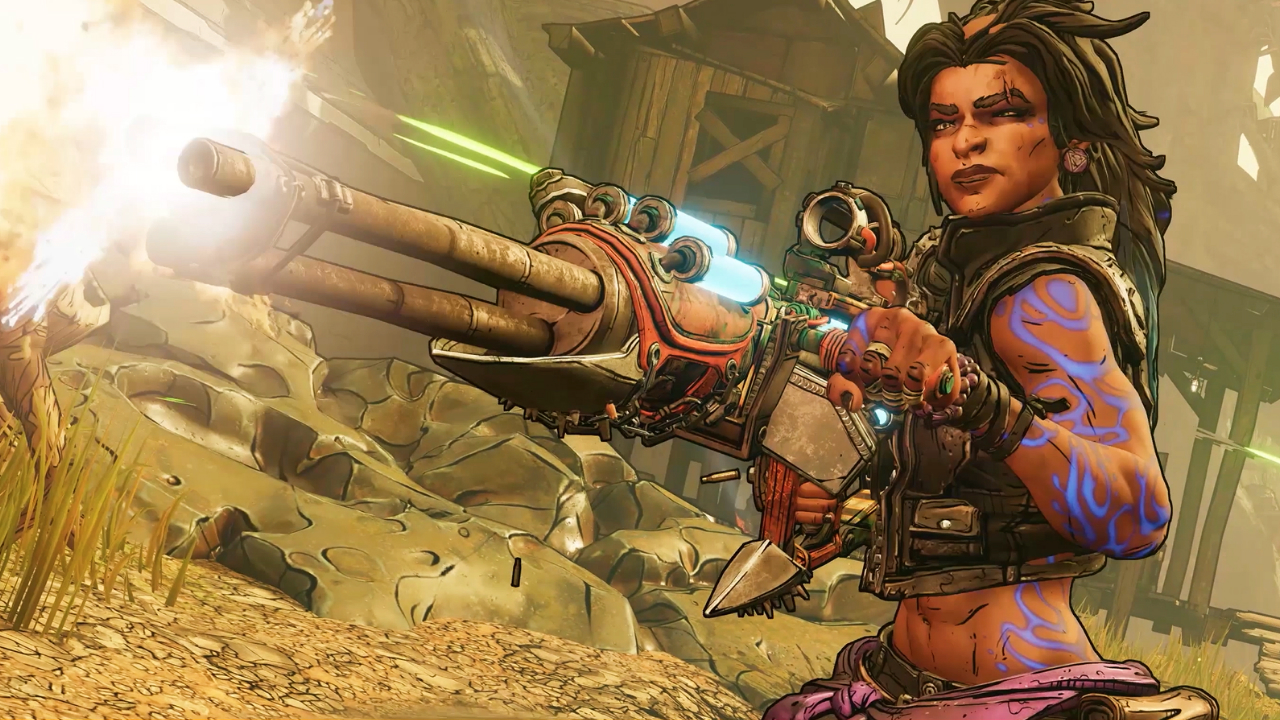 Finding the best Borderlands 3 guns is as much luck as it is knowing what missions to locate and compete. The random gun generation means there are millions of combination spat out every time the game makes loot, but there are some fixed rewards that will get you amazing, interesting, or just plain weird weapons. 
The range of effects you can get are incredibly wide ranged. Increased damage or status effects is just the start of what these guns can do. So if you're after a pistol with an under-barrel taser for added electrocution, or a gun that does extra damage when rammed into someone's rear end, we've got you covered. 
Obviously, with so many options and random elements, this guide to the best Borderlands 3 guns can only cover what we've found so far. But it will give you a great head start, and some amazing options to play with.
We've also got some more Borderland 3 guns linked just below that are so good we've given the specific guides to get getting them.
Borderlands 3 One Pump Chump | Borderlands 3 Jabbermogwai | Borderlands 3 Porcelain Pipe Bomb| Borderlands 3 Wick and Warty | Borderlands 3 Infinity Pistol
The Killing Word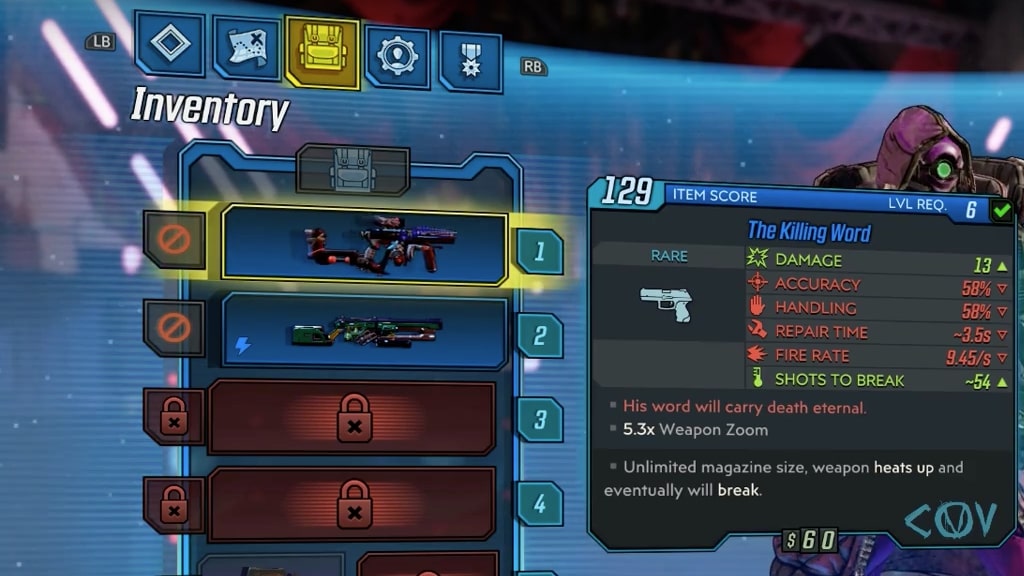 Buttplug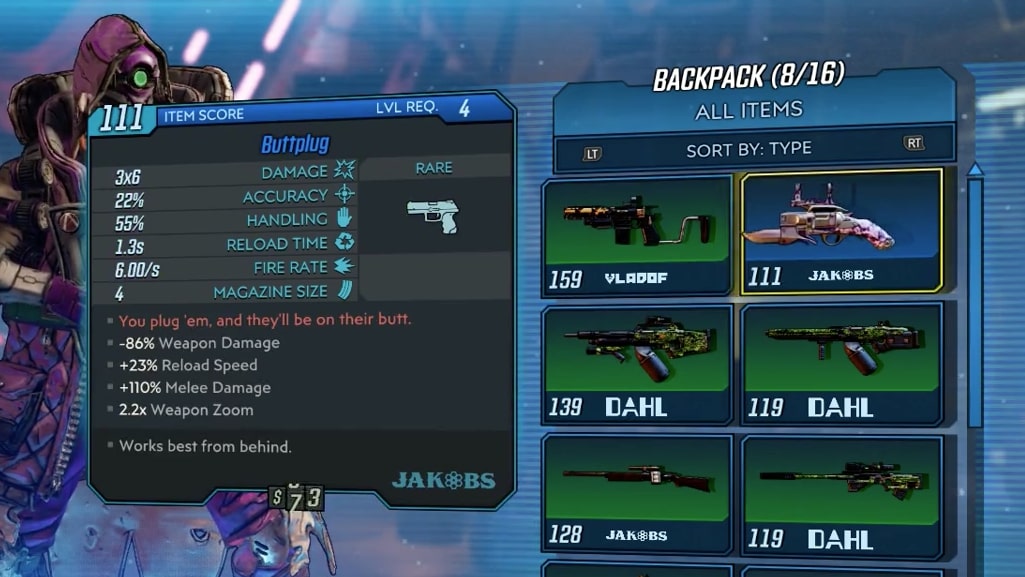 Brashi's Dedication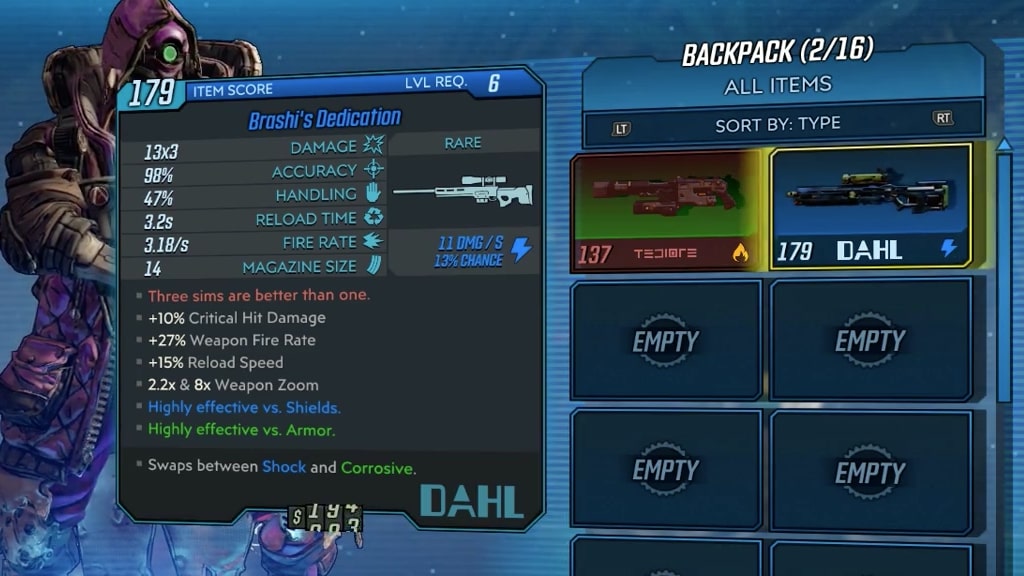 The Big Succ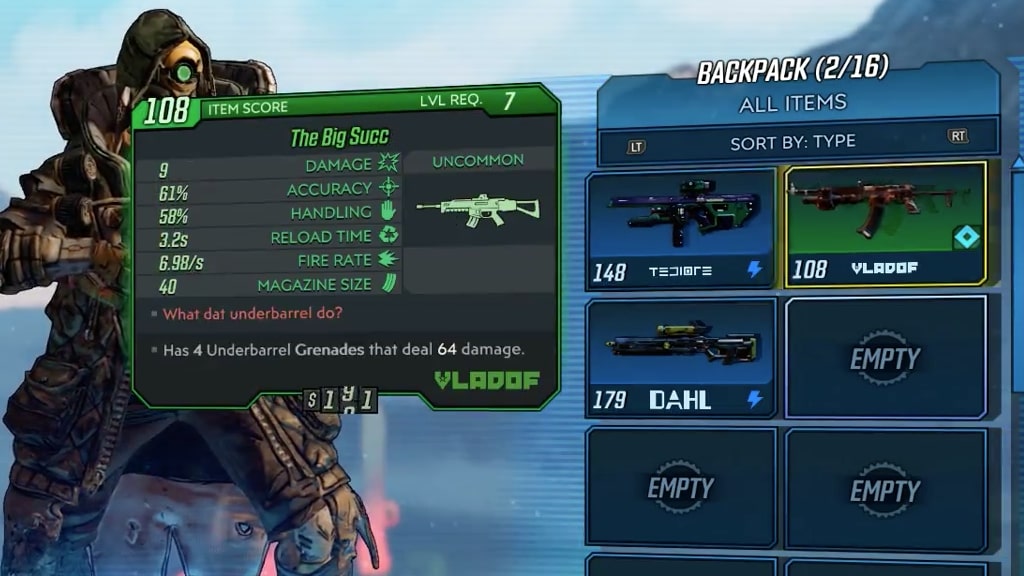 The Leech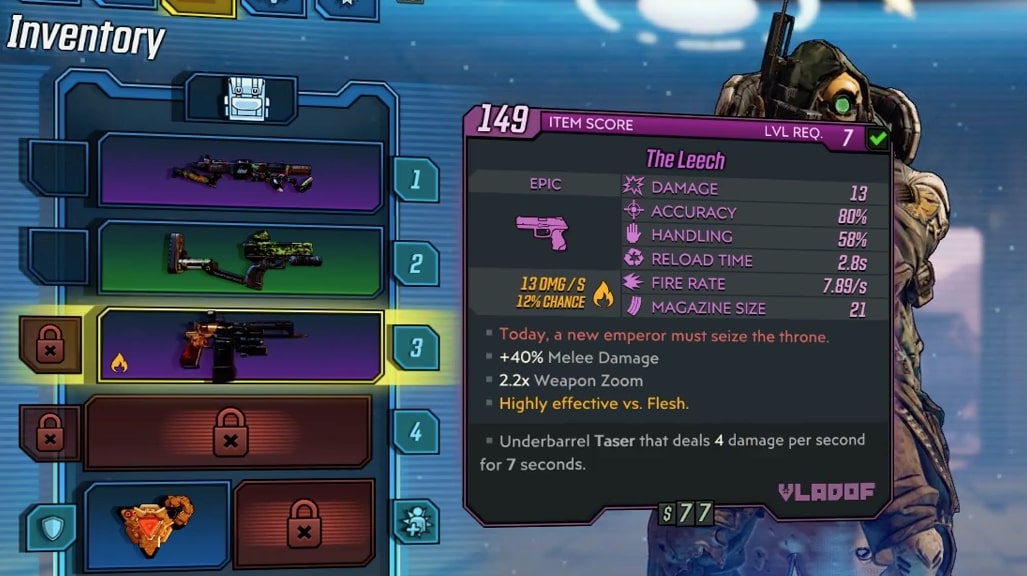 (Image credit: Gearbox)
How to get it: Reward from Ellie for completing the Taking Flight quest in The Droughts
This Vladof pistol's alternate fire mode is an under-barrel taser that, when fired, inflicts damage over time in addition to its initial impact shot. That, alongside its primary fire mode's incendiary effects, makes it particularly useful against Pandora's living organisms, whose flesh doesn't take too kindly to such elements. The Leech also provides a 40% melee damage bonus, so be sure to get up close and person when you've got this Epic tier handgun equipped. It can be picked up right before leaving Pandora for the first time, as part of the final main story quest in The Droughts, and can be handled once you reach Level 7.
Borderlands 3 tips | Borderlands 3 Shift Codes | Borderlands 3 patch notes | Borderlands 3 legendaries | Best Borderlands 3 character | Borderlands 3 bosses | Borderlands 3 Typhon Logs | Borderlands 3 Eridian writing | Borderlands 3 ending | Borderlands 3 ending
---
See more
The best Borderlands 3 guns we've seen so far
Finding the best Borderlands 3 guns is as much luck as it is knowing what missions to locate and compete. The random gun generation means there are millions of combination spat out every time the game makes loot, but there are some fixed rewards that will get you amazing, interesting, or just plain weird weapons. 
The range of effects you can get are incredibly wide ranged. Increased damage or status effects is just the start of what these guns can do. So if you're after a pistol with an under-barrel taser for added electrocution, or a gun that does extra damage when rammed into someone's rear end, we've got you covered. 
Obviously, with so many options and random elements, this guide to the best Borderlands 3 guns can only cover what we've found so far. But it will give you a great head start, and some amazing options to play with.
We've also got some more Borderland 3 guns linked just below that are so good we've given the specific guides to get getting them.
Borderlands 3 One Pump Chump | Borderlands 3 Jabbermogwai | Borderlands 3 Porcelain Pipe Bomb| Borderlands 3 Wick and Warty | Borderlands 3 Infinity Pistol
The Killing Word
Buttplug
Brashi's Dedication
The Big Succ
The Leech
(Image credit: Gearbox)
How to get it: Reward from Ellie for completing the Taking Flight quest in The Droughts
This Vladof pistol's alternate fire mode is an under-barrel taser that, when fired, inflicts damage over time in addition to its initial impact shot. That, alongside its primary fire mode's incendiary effects, makes it particularly useful against Pandora's living organisms, whose flesh doesn't take too kindly to such elements. The Leech also provides a 40% melee damage bonus, so be sure to get up close and person when you've got this Epic tier handgun equipped. It can be picked up right before leaving Pandora for the first time, as part of the final main story quest in The Droughts, and can be handled once you reach Level 7.
Borderlands 3 tips | Borderlands 3 Shift Codes | Borderlands 3 patch notes | Borderlands 3 legendaries | Best Borderlands 3 character | Borderlands 3 bosses | Borderlands 3 Typhon Logs | Borderlands 3 Eridian writing | Borderlands 3 ending | Borderlands 3 ending
#Borderlands #guns #weve
The best Borderlands 3 guns we've seen so far
Finding the best Borderlands 3 guns is as much luck as it is knowing what missions to locate and compete. The random gun generation means there are millions of combination spat out every time the game makes loot, but there are some fixed rewards that will get you amazing, interesting, or just plain weird weapons. 
The range of effects you can get are incredibly wide ranged. Increased damage or status effects is just the start of what these guns can do. So if you're after a pistol with an under-barrel taser for added electrocution, or a gun that does extra damage when rammed into someone's rear end, we've got you covered. 
Obviously, with so many options and random elements, this guide to the best Borderlands 3 guns can only cover what we've found so far. But it will give you a great head start, and some amazing options to play with.
We've also got some more Borderland 3 guns linked just below that are so good we've given the specific guides to get getting them.
Borderlands 3 One Pump Chump | Borderlands 3 Jabbermogwai | Borderlands 3 Porcelain Pipe Bomb| Borderlands 3 Wick and Warty | Borderlands 3 Infinity Pistol
The Killing Word
Buttplug
Brashi's Dedication
The Big Succ
The Leech
(Image credit: Gearbox)
How to get it: Reward from Ellie for completing the Taking Flight quest in The Droughts
This Vladof pistol's alternate fire mode is an under-barrel taser that, when fired, inflicts damage over time in addition to its initial impact shot. That, alongside its primary fire mode's incendiary effects, makes it particularly useful against Pandora's living organisms, whose flesh doesn't take too kindly to such elements. The Leech also provides a 40% melee damage bonus, so be sure to get up close and person when you've got this Epic tier handgun equipped. It can be picked up right before leaving Pandora for the first time, as part of the final main story quest in The Droughts, and can be handled once you reach Level 7.
Borderlands 3 tips | Borderlands 3 Shift Codes | Borderlands 3 patch notes | Borderlands 3 legendaries | Best Borderlands 3 character | Borderlands 3 bosses | Borderlands 3 Typhon Logs | Borderlands 3 Eridian writing | Borderlands 3 ending | Borderlands 3 ending
#Borderlands #guns #weve
---
Synthetic: Ôn Thi HSG