News
Today's Heardle answer — Thursday, May 26, #90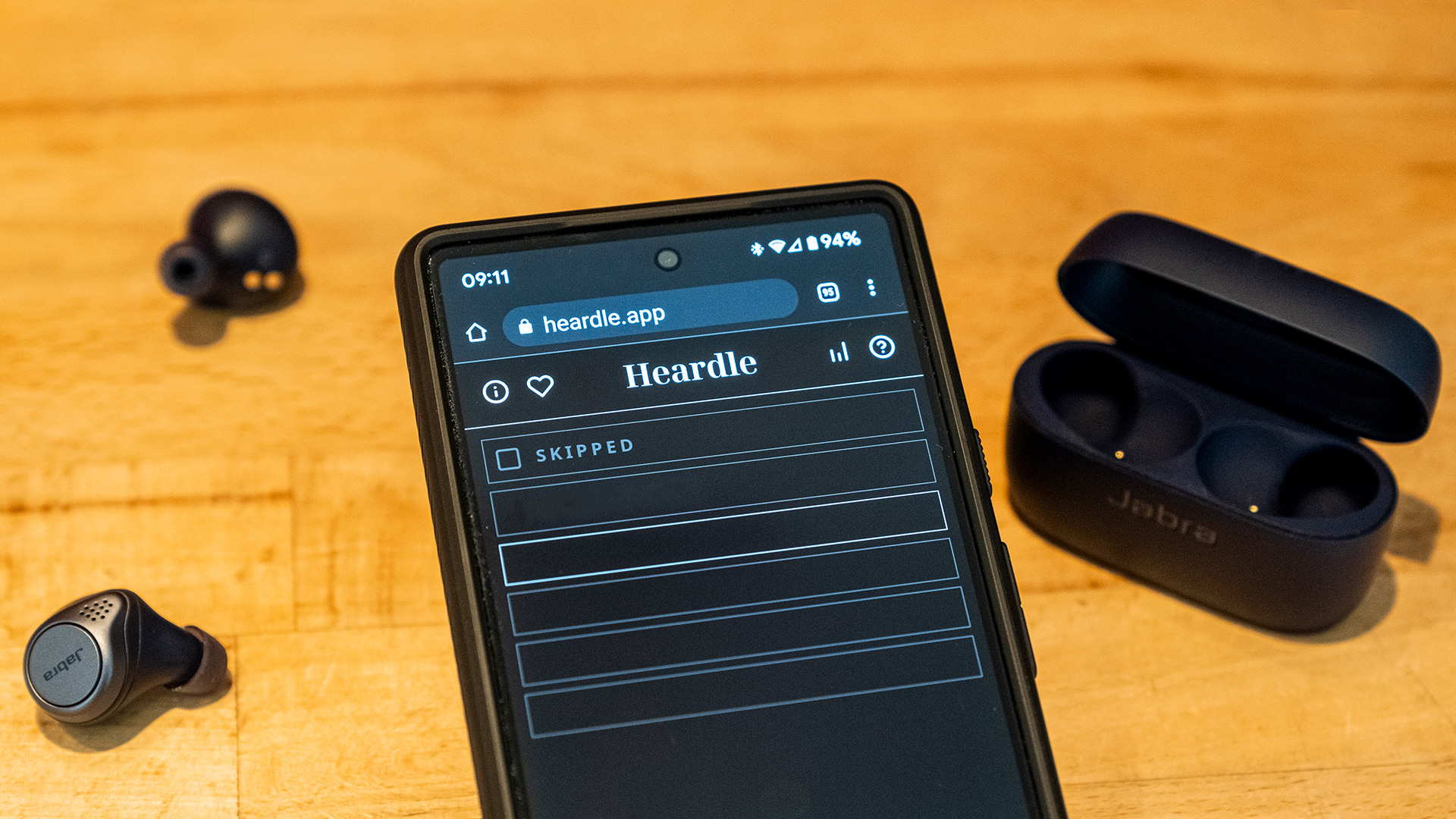 Today's Heardle answer is an easy one if you're of a certain age or into a particular kind of music — but could be difficult otherwise. If you play Heardle, you'll know what I mean.
Haven't played the game before? It's one of the best Wordle alternatives and clones, but rather than making you guess five-letter words, it gives you six chances to identify a song from a 15-second intro. Heardle pulls its playlist from the most popular streamed tracks on a range of platforms, so you don't need to be a huge music buff to stand a chance of getting a good score.
Still, it can be surprisingly tricky to guess the name of a song just from the intro. That's where we come in — we're keeping track of the answers from past Heardle games, and we'll give you hints for today's Heardle answer if you're stumped.
Plus, if you just want to know the solution to today's Heardle, you'll find that here, too. No judgement from us.
Warning: spoilers lie ahead for Heardle #90, so only read on if you want to know today's Heardle answer! 
Today's Heardle hints, Thursday, May 26
Before we reveal today's answer, here are a few hints that should help you if you're stuck.
This song released in 1989
This group shares a name with a French fashion magazine
This song was featured in the season 2 finale of the teen drama/mystery series The Wilds earlier this year
Alright, that's the hints done with — time for the solution.
Today's Heardle answer, Thursday, May 26
So, what is today's Heardle answer?
The answer is Personal Jesus by Depeche Mode.
Did you get it? If Heardle's 30-second clip wasn't enough for you, check out the full song here:
Well done if you got the right answer! The titular "your own personal Jesus" line comes in around the 20-second mark in this song. It's not soon enough to give the answer away in Heardle's 15-second time limit, but if you recognise the opening, you have a decent chance to identify the song's name.
Around the internet, I saw divisive scores from Heardle players as usual. I saw lots of Depeche Mode superfans guess this song correctly after hearing just 1 second of it, while many other players were frustrated they didn't recognise the tune in time to keep their streak.
After hearing the first two seconds of today's Heardle, I was convinced it was some kind of airport tannoy announcement jingle or the sound an elevator makes when the doors open. The rest of the intro didn't do much for me either, so even after my recent success, it was another Heardle loss for me this round. Still, I'll be sure to add some Depeche Mode to my usual playlist on the off chance they appear on Heardle again.
Previous Heardle answers
If you're looking for a list of older Heardle answers, we can also help. Here's a list going back 20 games.
#98, May 25: Backstreet Boys — I Want It That Way
#88, May 24: Bob Dylan — Like A Rolling Stone
#87, May 23: Alicia Keys — If I Ain't Got You
#86, May 22: Joy Division — Love Will Tear Us Apart
#87, May 21: The Notorious B.I.G. — Juicy
#84, May 20: Justin Timberlake — Like I Love You
#83, May 19: Miley Cyrus — Wrecking Ball
#82, May 18: Deep Purple — Smoke on Water
#81, May 17: George Michael — Freedom '90
#80, May 16: Wild Cherry — Play That Funky Music
#79, May 15: Paul Simon — You Can Call Me AL
#78, May 14: Toploader — Dancing in the Moonlight
#76, May 12: a-Ha — Take On Me
#75, May 11: Santa — Maria Maria (ft. The Product G&B)
#74, May 10: Blue Oyster Cult — (Don't Fear) The Reaper
#73, May 9: Jamiroquai — Virtual Insanity
#72, May 8: Kate Bush — This Woman's Work
#71, May 7: Cyndi Lauper — Girls Just Want to Have Fun
#70, May 6: Stardust — Music Sounds Better With You
#69, May 5: TLC — No Scrubs
---
See more
Today's Heardle answer — Thursday, May 26, #90
Today's Heardle answer is an easy one if you're of a certain age or into a particular kind of music — but could be difficult otherwise. If you play Heardle, you'll know what I mean.
Haven't played the game before? It's one of the best Wordle alternatives and clones, but rather than making you guess five-letter words, it gives you six chances to identify a song from a 15-second intro. Heardle pulls its playlist from the most popular streamed tracks on a range of platforms, so you don't need to be a huge music buff to stand a chance of getting a good score.
Still, it can be surprisingly tricky to guess the name of a song just from the intro. That's where we come in — we're keeping track of the answers from past Heardle games, and we'll give you hints for today's Heardle answer if you're stumped.
Plus, if you just want to know the solution to today's Heardle, you'll find that here, too. No judgement from us.
Warning: spoilers lie ahead for Heardle #90, so only read on if you want to know today's Heardle answer! 
Today's Heardle hints, Thursday, May 26
Before we reveal today's answer, here are a few hints that should help you if you're stuck.
This song released in 1989
This group shares a name with a French fashion magazine
This song was featured in the season 2 finale of the teen drama/mystery series The Wilds earlier this year
Alright, that's the hints done with — time for the solution.
Today's Heardle answer, Thursday, May 26
So, what is today's Heardle answer?
The answer is Personal Jesus by Depeche Mode.
Did you get it? If Heardle's 30-second clip wasn't enough for you, check out the full song here:
Well done if you got the right answer! The titular "your own personal Jesus" line comes in around the 20-second mark in this song. It's not soon enough to give the answer away in Heardle's 15-second time limit, but if you recognise the opening, you have a decent chance to identify the song's name.
Around the internet, I saw divisive scores from Heardle players as usual. I saw lots of Depeche Mode superfans guess this song correctly after hearing just 1 second of it, while many other players were frustrated they didn't recognise the tune in time to keep their streak.
After hearing the first two seconds of today's Heardle, I was convinced it was some kind of airport tannoy announcement jingle or the sound an elevator makes when the doors open. The rest of the intro didn't do much for me either, so even after my recent success, it was another Heardle loss for me this round. Still, I'll be sure to add some Depeche Mode to my usual playlist on the off chance they appear on Heardle again.
Previous Heardle answers
If you're looking for a list of older Heardle answers, we can also help. Here's a list going back 20 games.
#98, May 25: Backstreet Boys — I Want It That Way
#88, May 24: Bob Dylan — Like A Rolling Stone
#87, May 23: Alicia Keys — If I Ain't Got You
#86, May 22: Joy Division — Love Will Tear Us Apart
#87, May 21: The Notorious B.I.G. — Juicy
#84, May 20: Justin Timberlake — Like I Love You
#83, May 19: Miley Cyrus — Wrecking Ball
#82, May 18: Deep Purple — Smoke on Water
#81, May 17: George Michael — Freedom '90
#80, May 16: Wild Cherry — Play That Funky Music
#79, May 15: Paul Simon — You Can Call Me AL
#78, May 14: Toploader — Dancing in the Moonlight
#76, May 12: a-Ha — Take On Me
#75, May 11: Santa — Maria Maria (ft. The Product G&B)
#74, May 10: Blue Oyster Cult — (Don't Fear) The Reaper
#73, May 9: Jamiroquai — Virtual Insanity
#72, May 8: Kate Bush — This Woman's Work
#71, May 7: Cyndi Lauper — Girls Just Want to Have Fun
#70, May 6: Stardust — Music Sounds Better With You
#69, May 5: TLC — No Scrubs
#Todays #Heardle #answer #Thursday
Today's Heardle answer — Thursday, May 26, #90
Today's Heardle answer is an easy one if you're of a certain age or into a particular kind of music — but could be difficult otherwise. If you play Heardle, you'll know what I mean.
Haven't played the game before? It's one of the best Wordle alternatives and clones, but rather than making you guess five-letter words, it gives you six chances to identify a song from a 15-second intro. Heardle pulls its playlist from the most popular streamed tracks on a range of platforms, so you don't need to be a huge music buff to stand a chance of getting a good score.
Still, it can be surprisingly tricky to guess the name of a song just from the intro. That's where we come in — we're keeping track of the answers from past Heardle games, and we'll give you hints for today's Heardle answer if you're stumped.
Plus, if you just want to know the solution to today's Heardle, you'll find that here, too. No judgement from us.
Warning: spoilers lie ahead for Heardle #90, so only read on if you want to know today's Heardle answer! 
Today's Heardle hints, Thursday, May 26
Before we reveal today's answer, here are a few hints that should help you if you're stuck.
This song released in 1989
This group shares a name with a French fashion magazine
This song was featured in the season 2 finale of the teen drama/mystery series The Wilds earlier this year
Alright, that's the hints done with — time for the solution.
Today's Heardle answer, Thursday, May 26
So, what is today's Heardle answer?
The answer is Personal Jesus by Depeche Mode.
Did you get it? If Heardle's 30-second clip wasn't enough for you, check out the full song here:
Well done if you got the right answer! The titular "your own personal Jesus" line comes in around the 20-second mark in this song. It's not soon enough to give the answer away in Heardle's 15-second time limit, but if you recognise the opening, you have a decent chance to identify the song's name.
Around the internet, I saw divisive scores from Heardle players as usual. I saw lots of Depeche Mode superfans guess this song correctly after hearing just 1 second of it, while many other players were frustrated they didn't recognise the tune in time to keep their streak.
After hearing the first two seconds of today's Heardle, I was convinced it was some kind of airport tannoy announcement jingle or the sound an elevator makes when the doors open. The rest of the intro didn't do much for me either, so even after my recent success, it was another Heardle loss for me this round. Still, I'll be sure to add some Depeche Mode to my usual playlist on the off chance they appear on Heardle again.
Previous Heardle answers
If you're looking for a list of older Heardle answers, we can also help. Here's a list going back 20 games.
#98, May 25: Backstreet Boys — I Want It That Way
#88, May 24: Bob Dylan — Like A Rolling Stone
#87, May 23: Alicia Keys — If I Ain't Got You
#86, May 22: Joy Division — Love Will Tear Us Apart
#87, May 21: The Notorious B.I.G. — Juicy
#84, May 20: Justin Timberlake — Like I Love You
#83, May 19: Miley Cyrus — Wrecking Ball
#82, May 18: Deep Purple — Smoke on Water
#81, May 17: George Michael — Freedom '90
#80, May 16: Wild Cherry — Play That Funky Music
#79, May 15: Paul Simon — You Can Call Me AL
#78, May 14: Toploader — Dancing in the Moonlight
#76, May 12: a-Ha — Take On Me
#75, May 11: Santa — Maria Maria (ft. The Product G&B)
#74, May 10: Blue Oyster Cult — (Don't Fear) The Reaper
#73, May 9: Jamiroquai — Virtual Insanity
#72, May 8: Kate Bush — This Woman's Work
#71, May 7: Cyndi Lauper — Girls Just Want to Have Fun
#70, May 6: Stardust — Music Sounds Better With You
#69, May 5: TLC — No Scrubs
#Todays #Heardle #answer #Thursday
---
Synthetic: Ôn Thi HSG